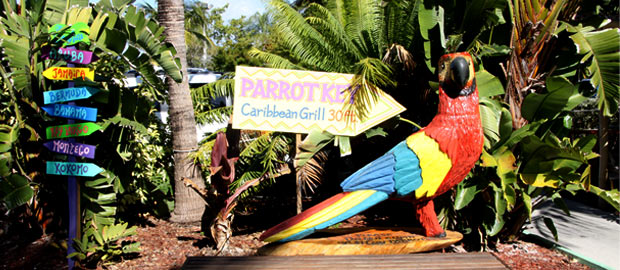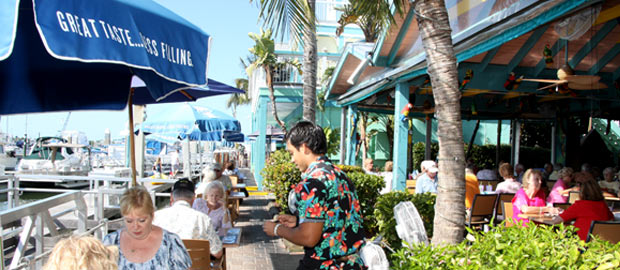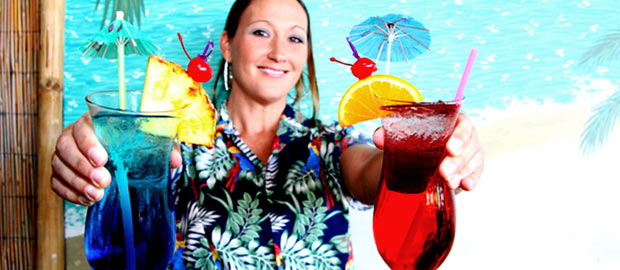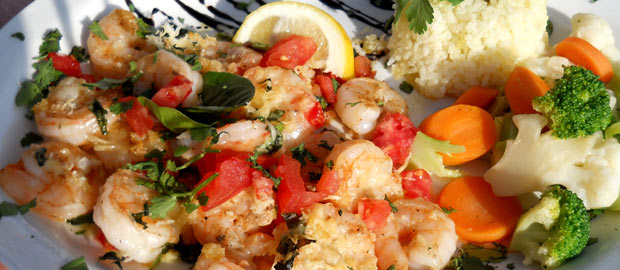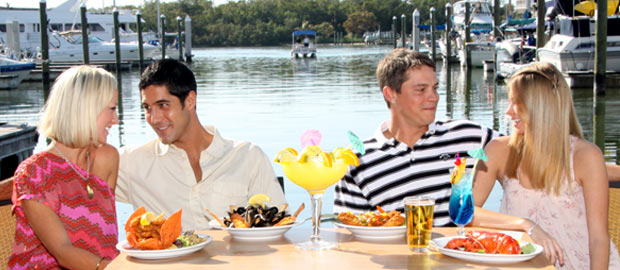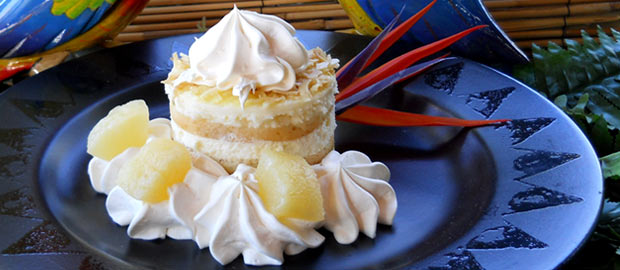 Eat at the Parrot Key
Voted Best Waterfront Dining since 2004 by the Fort Myers News-Press readers' poll, Parrot Key Caribbean Grill is a special place where colorful characters flock to eat, drink and be merry. Parrot Key is a favorite of locals and visitors alike with its unique open-air setting on the waterfront edge of a working marina and a thriving wildlife aquatic preserve. The festive décor and casual ambiance evokes a feeling of various exotic tropical locales.  Colorful and tasty frozen drinks are served alongside Caribbean inspired cuisine diverse enough to please all palates including fresh local seafood and land based favorites.  Open for lunch or dinner with entertainment six nights a week, Parrot Key is located at Salty Sam's Marina and accessible by land or water.
Parrot Key, dubbed "Lambeau Field South", is the number one place in Southwest Florida where Packer's Fans gather to watch the game. It is also the home of the Caribbean Cruise In Car Shows and the Fort Myers Beach Christmas Boat Parade.
Parrot Key Caribbean Grill is located at Salty Sam's Marina at 2500 Main Street, just before the bridge to Fort Myers Beach. For more information please call (239) 463-3257 or visit www.myparrotkey.com.
What people are saying about Parrot Key:

Parrot key has waterfront dinning, music, great food and good service who could ask for more? From the great tommy cosmo (YUM), wonderful crisp green salad to fresh grouper baked with crab stuffing and a awesome sauce! WONDERFUL DINNING EXPERIENCE! Â -Susan T – 12/4/2011

---

Wanted to tell you how great your ribs were, I don't get alot of bar be que that I enjoy since I am now gluten free. Wonder if you sell you sauce and can ship it to chicago. Really enjoyed it. -Sally Z – 11/4/2011