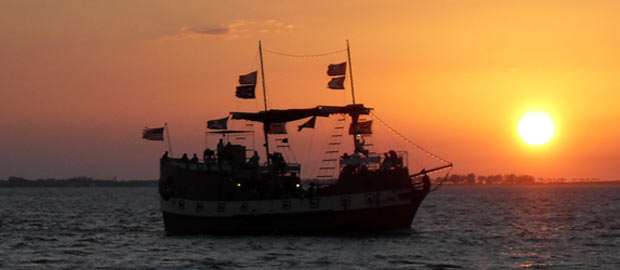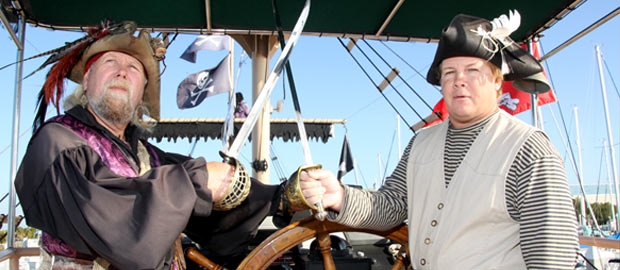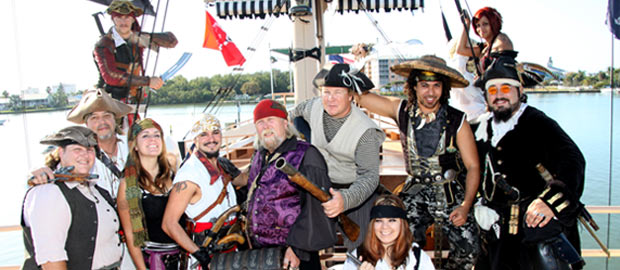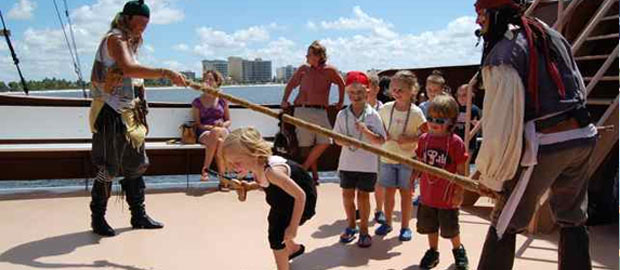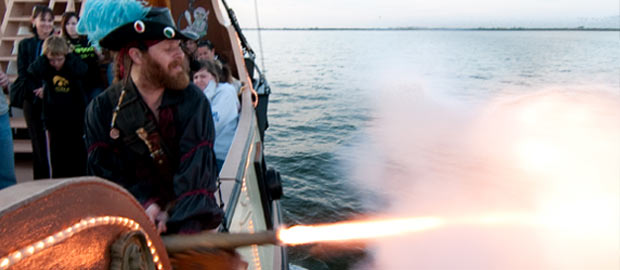 Set Sail on a Pirate Cruise
Pieces of Eight is a magnificent 65ft replica Spanish galleon pirate ship pillaging and plundering the Gulf of Mexico from the shores of Fort Myers Beach. This authentic pirate themed cruise is looking for buccaneers young and old to experience a real-life pirate voyage back through the Golden Age of Piracy.You are guaranteed to have a jolly roger of a good time on this "fun for all ages" attraction. Their friendly and sometimes downright scurvy crew of costumed pirates entertain you while enjoying a sail around the area's intracoastal islands and pristine beaches.
Your "Lil Pirates" will enjoy face painting, interactive pirate history, games, a limbo dance party, secret maps and treasure! Parents, sit back, relax and enjoy watching your child's excitement while enjoying a little pirate grog & grub. "Seasoned Seadogs" or grown-up pirates might enjoy our adult only or private charter cruises.
Reservations are required. For more information visit www.piecesofeight.com.
What people are saying about Pieces of Eight Pirate Cruise:

Great show put on by all the pirates! We, our children and 4 grandchildren ages 3-11 all enjoyed the cruise. The older kids had a smile on their faces almost all the time. More than a cruise it felt like there was a show going on at all times as the pirates were always joking with the passengers, doing little skits, and getting the passengers involved in activities aboard ship. Seemed especially fun for the 6-12 yr olds and adults. Lots of adult humor, but in a clean and family way. Also lots of interesting facts about pirating was shared. The whole family had a great time and also great dining at Parrot Key afterward. Highly recommend this cruise! –Pat Roberts – 3/7/2012

We first borded the ship during Pirate Fest Oct 2011, and we're so impressed with the ship and the crew. We talked with 'Captain Jack' and decided we'd be back on our next trip. Our next trip was May and we were on board 3 times in 2 weeks. Love it, loved it, LOVED IT. For the price you can't beat it. Will do it again each time we're back at the beach. – Tom & Patti Hart – 6/3/11

---